Powder Mill
800 Mesh Ultra Fine Powder Grinder Machine
What is a special powder grinder for grinding ultrafine powder? CLIRIK HGM ultrafine powder grinder mill is a special mill for grinding 200-3000 mesh powder, and it is also an ideal calcium carbonate milling machine. This article mainly introduces a special mill for grinding calcium carbonate powder to new and old customers and friends, creating greater value for customers from a professional perspective.
Introduction of HGM ultra fine powder grinder machine
The HGM ultra-fine powder grinder machine for grinding fine powder is CLIRIK's upgraded and innovative grinding equipment. It is a grinding equipment that meets the needs of calcium carbonate, calcite, dolomite, bentonite, potash feldspar and other ore fine powder projects. It has the following main advantages and highlights , To become the ideal
micro grinding mill equipment
for the fine powder market.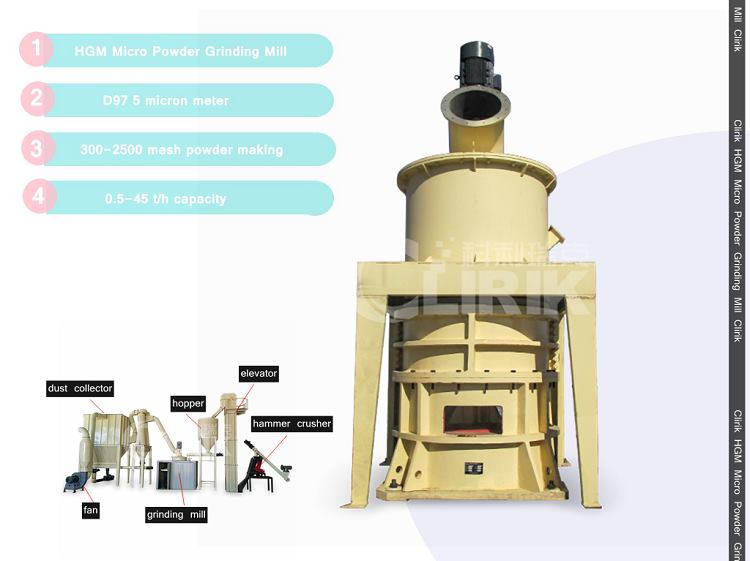 800 Mesh Ultra Fine Powder Grinder Machine

Advantages of HGM ultra fine powder grinder machine

Advantage 1: High efficiency and energy saving
In the case of the same fineness of the finished product and the same motor power, the output is more than double that of jet mill, stirring mill, and ball mill.
Advantage 2: Long service life of wearing parts
The grinding roller and grinding ring are forged with special materials, which greatly improves the utilization. Generally, it can reach more than one year, and the service life can reach 2-5 years when processing calcium carbonate.
Advantage 3: High safety and reliability
Because there is no rolling bearing and no screws in the grinding cavity, there is no problem that the bearings and their seals are easily damaged, and there is no problem that the screws are easy to loosen and damage the machine.
Advantage 4: Environmental protection, clean
The pulse dust collector is used to capture dust, and the muffler is used to reduce noise, which is environmentally friendly and clean.
Working principle of HGM ultra fine powder grinder machine
The working principle of CLIRIK HGM series ultra fine powder grinder machine grinding machine is scientific, mainly including crushing, grinding, grading and powder collection. The jaw crusher crushes the raw ore, and the material is crushed and ground due to rolling, and the ground powder is After being blown to the classifier, the fine powder that meets the requirements can flow into the pulse dust collector for collection.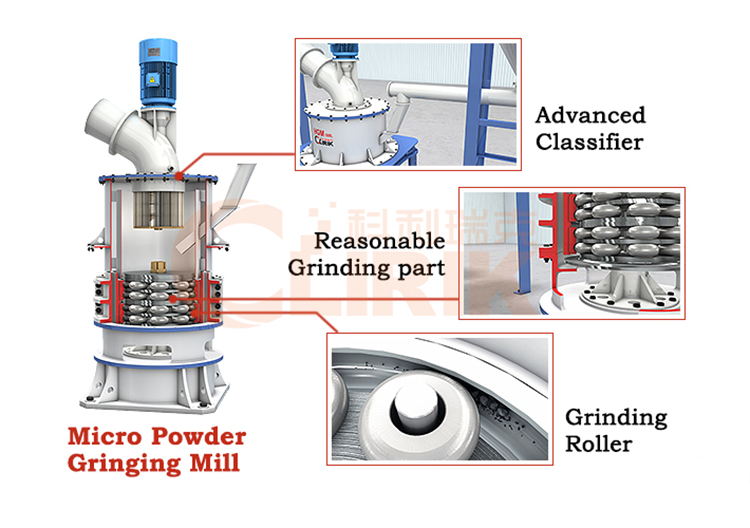 Parameter of HGM ultra fine powder grinder machine
Model
HGM80
HGM90
HGM100
HGM125
HGM1680
Ring Diameter(mm)
800
900
1000
1250
1680
Ring Number (PCS)
3
3-4
4
4
4
Roller Number(PCS)
18-21
24-29
28-36
30-44
30-40
Main Shaft Speed (r. p. min)
230-240
200-220
180-200
135-155
120-130
Input Size (mm)
≤10
≤10
≤15
≤15
≤20
Finished Size (um/mesh)
74-5
(200-2500)
74-5
(200-2500)
74-5
(200-2500)
100-6
(150-2000)
100-9
(150-1500)
Capacity (t/h)
0.4-4.5
0.6-6.5
1-9
2-16
3.8-30
Outlet Size L*W*H (m)
13.9*4*6.2
14.7*4.8*7.2
18*4.6*8.6
14*9*10.25
26.3*7.5*11.9

How to solve the problem of powder grinder wear?
Power grinder are usually relatively heavy equipment. After long-term use, some problems will inevitably occur, namely wear and tear. When the powder grinder machine is running, vibration sometimes occurs. Whether it is abrasion or vibration, the problem should be resolved within the specified time. When using a powder grinder machine, due to the particularity of its use environment, if a machine failure occurs, it can be discovered and dealt with in time, which is of great significance for preventing production accidents and equipment damage.
First of all, what we have to do is to check whether the powder grinder machine is severely worn. If it is not serious, we can scratch it to reduce wear. Otherwise, the worn parts must be replaced in time to make the operation of the stone crusher more stable. Secondly, the rock crusher vibrated and trembled. Generally, it is normal for some vibration to occur during operation, but if the vibration is severe, please check whether the machine is level; if not, check whether the feed is uneven, causing difficulty in crushing and large vibration; or some parts are damaged , Resulting in abnormal operation of the machine. Therefore, it is necessary to turn off severe vibration and tremor to check the specific cause.
After all, the powder grinder machine is a large-scale equipment. It is normal to crush large pieces of hard rock all day long, and it is normal to have abrasion failure, so please check it carefully and maintain it properly. For example, adding lubricating oil reduces the large amount of heat generated by friction and has a certain protective effect on the crushing equipment. Remember: check the stone crusher before each operation, if there is no fault, please turn it on again.
Due to various problems that may occur when using powder grinder equipment, it is recommended that in daily use, different methods should be used to determine the wear process according to the corresponding conditions. Sometimes it is necessary to use multiple methods to determine the damage, so that the problem can be discovered in time to avoid greater losses.
Contact us now to get latest quotation of HGM ultra fine powder grinder machine.
Email: sales@clirik.com
WhatsApp: 008613917147829 / 008613512155195
Inquiry: