Powder Mill
Raymond mill;Raymond powder mill equipment
Introduction of Raymond mill;Raymond powder mill equipment:
Raymond mill;Raymond powder mill equipment
manufactured by Shanghai Clirik Machinery Co., Ltd., is effective closed-circuit high fineness powder manufacturing equipment, which is applicated in small and medium mining, silicate and chemical, building-material, metallurgy, refractory material, pharmaceuticals and lime industry. It is a new style powder grinding machine, which is more advanced than ball grinder and much appreciated in many fields due to its domestic leading level in each technical specification. This product adopts advanced structure of similar products from abroad, and is updated and designed based on large
Raymond mill;Raymond powder mill equipment
. Under centrifugal force,
grinding roller
rollers closely on
grinding ring
, which shall not affect yield and fineness of ground powder in the case that
grinding roller
and ring are worn to a certain degree.
Grinding roller
and
grinding ring
enjoy a long update cycle, which eliminates disadvantage of short update cycle for easily damaged parts on centrifugal crusher. In this grinder, pneumatic flow goes circularly through fan--grinding enclosure--cyclone separator—fan. Therefore, dust in this machine is less than that in high speed centrifugal grinder, and operation workshop is relatively clean without environmental contamination.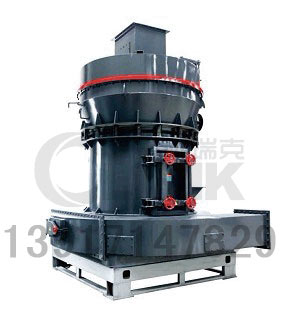 Features of Raymond mill;Raymond powder mill equipment:
1. With a small floor area and good entirety,
Raymond mill;Raymond powder mill equipment
can operate independently and automatically from piece crushing to product packaging.
2. Powder ground by
Raymond mill;Raymond powder mill equipment
can be screened at a rate of above 99%, which other grinders are unable to achieve.
3. Electromagnetic-vibrating feeder is easily regulated, small in volume and light in weight. It saves oil and electricity, and enjoys convenient maintenance. The adoption of it shall ensure the uniformity of feeding.
4. Electricity is central controlled without manual operation in host machine room.
5. Host machine driving unit adopts closed reduction box, which achieves stable transmission and reliable rotation without leakage of oil.
6. Shovel tool rest for host machine keeps in touch with materiel while rotating. It is composed of two parts, of which bracket may be changed after abrasion through dismounting bolts connected

Working principle of Raymond mill;Raymond powder mill equipment:
The whole machine is collocated with jaw crusher, elevator, hopper, electromagnetic vibrating feeder, main unit, classifier, collector, cloth deduster and high-pressure blower.
The working principle is as follows: load the stuff for grinding evenly and continuously into the grinding chamber of the main frame. Due to the centrifugal force in rotation, the roller swings go outward and presses closely upon the ring. The shovel carries the stuff to the space between the roller and ring. When the roller rolls, the stuff is thus grinded. After being grinded, the stuff is to be routed to the classifier along wind belt of the blower and the rough powder will be put back to the grinder for regrinding.
The fine powder flows into the cyclone collector together with air flow and is expelled from the powder output pipe as product. In the grinding chamber, since the stuff contains moisture to some extent, the heat generated during grinding makes the moisture evaporate; since the pipeline joints are not airtight, the external air is sucked in and the circulation air mass increases. In order to enable the grinder to work in negative pressure, the increased air flow is guided to the deuster and sequentially to the atmosphere after purification.
Detail Specification of Raymond mill;Raymond powder mill equipment:
Type
Roller
Max. feeding size(mm)
Fineness of product(mm)
Output (t/h)
Power of machine(KW)
Size(mm)
No.
Dimension(mm)
Height(mm)
YGM7815
3
260
150
15-20
0.025-0.005
0.28-3
18.5
4300*3500*5100
YGM8314
3
270
140
15-20
0.025-0.005
0.35-3.4
22
5300*4100*5200
YGM9517
4
310
170
15-25
0.025-0.005
1.5-6.5
37
7100*5900*7900
YGM4121
5
410
210
15-25
0.613-0.044
3-12
75
7850*8000*9700
Inquiry: